700R4
We have many 700R4 parts to choose from, click the buttons above to filter your search.
The 700R4 transmission was first introduced by General Motors in 1982 through 1992. It is sometimes also referred to as the 4L60. The 700R4 was one of General Motors first over drive auto transmission and was used in everything from pickup trucks to Corvettes.
FIXES MOST GM AND FORD 1/4" CHECKBALL HOLES
Superior Transmission Parts introduces our new, Made in the U.S.A. Superior Part # K0136 Dire...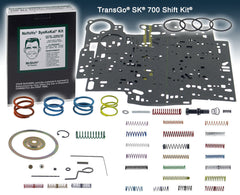 TransGo SK700R4 Senior "Green Box" Shift Kit 1982 Thru 1993 This Is A New And Never Opened Trans...