4R70/4R75
We have many 4R70/4R75 parts to choose from, click the buttons above to filter your search.
A revised version of the AODE was released in 1993 and Ford named it the 4R70. Compared to the AODE, it has lower 1st and 2nd gear ratios for better take-off acceleration and was designed for better gearset strength.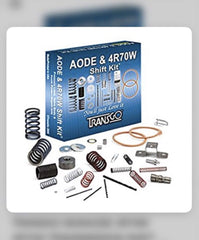 Brand new shift kit to solve common issues with this trans
Shifts and holds 1st and 2nd gear to any RPM when manually shifted, but retains automatic up-shif...