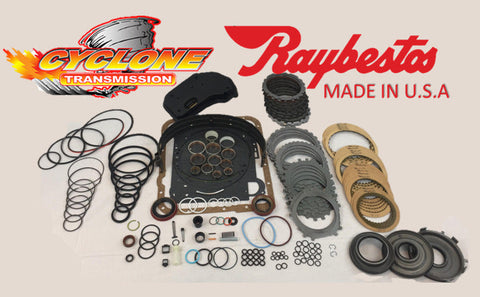 4L60E Transmission High Performance Rebuild Stage 4 Kit WITH ZPAK PACK 2004-UP
Description:
4L60E high-performance Rebuild Kit
ALL YEARS 2004-UP
KIT COMES WITH:
Complete Reybestos Friction Module
Complete Reybestos Steel Module
3-4 Z-PAK
Reybestos High Energy Front Band
DEEP OR SHALLOW FILTER
Complete Bushing Kit w/ Teflon Pump and Tail Bushings

COMES WITH NEW BONDED PISTONS THAT CAN BE USED IN ALL YEARS
Clutch seals individually bagged, as shown in pictures,
making rebuild easier, even for novices
THE 3-4 ZPAK IS A SINGLE SIDES CLUTCH PACK DESIGNED
TO TAKE HEAT AND ABUSE WITHOUT WARPING, A COMMON
PROBLEM WITH ALTO BRANDED KITS. THIS KIT IS BY FAR A
HIGHER QUALITY KIT THAN ALL ALTO KITS.
THIS KIT IS PROVEN IN ALL OF OUR UNITS
*PLEASE NOTE: IF YOUR VEHICLE IS A 2004 AND YOU HAVE AN ORING PUMP YOU NEED TO ORDER THE 1993-2004 REBUILD KIT. BUT, IF YOU HAVE A WEDGE/METAL SEAL PUMP YOU NEED THE 2004-UP REBUILD KIT.