Products Turbo 350 F-3 Rebuilt Transmission with converter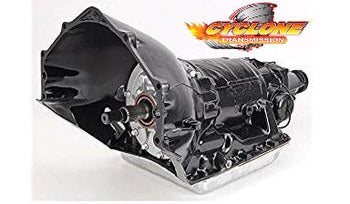 Products Turbo 350 F-3 Rebuilt Transmission with converter
Description:
Raybestos Red clutches seals and clutches throughout 
New high energy band
Cyclone F-3 Shift Kit
Recalibrated Front Pump
Complete bushing kit.
New sprags throughout
Upgraded clutch packs throughout
Sonnax hardened intermediate race
Wide roller low/reverse sprag
Chrome Pan
6" Tailshaft (short, longer lengths available)
Direct clutch pack machined for extra clutch
Adjustable vacuum modulator
Priced with stock Converter
No core charge
Dyno Tested
Rated at 650hp
Transmission ships to a commercial business or nearest Fedex freight terminal.
A $250 flat rate charge will be added to any remanufactured transmission shipped within the continental United States.